"You've been drafted into a war you didn't start, ... Focus on your customers and lead your people as though their lives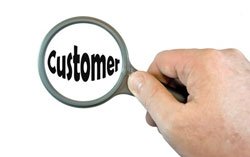 depended on your success."
Warren Buffet
The biggest mistake made by small business is trying to be all things to all people. Successful customer service is all about finding out what are the most important things for your customers and then being the best at giving it to them.
In this seminar we'll look at true customer focus –
how to establish a viable target market,
how to identify the key needs and desires of that market, and
how to design a business that singularly focuses upon satisfying those needs.
Find out how to jettison all the stuff that takes up considerable time and resources and isn't really important to your customers anyway. Just concentrate on what is important to your customers.
IDEAL AUDIENCE: Business owners and senior staff
TIMING: 2 hours
Where to start? Fill in our Contact Form and we'll be in touch. Let's start the conversation...