Retail Musings
"How can money be the root of all evil, when shopping is the cure for all sadness..." Elizabeth Taylor
Blog posts tagged in Right Product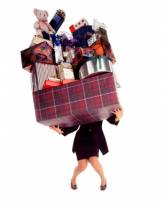 The buying function plays a critical role in a retail business because it is buyers who determine virtually all of the elements of the merchandise offer. If the buyer fails to get the 'five rights' (that is, merchandise, quantity, price, place and timing) right, no amount of slick presentation or promotion will save the retailer.
The effectiveness of the buying function has a major impact on the retailer's ultimate profitability because:
Merchandise is the principal generator of revenue

Merchandise typically represents between 33 and 66 percent of a retailer's total assets.
Viewed in this context, it becomes clear that buyers don't simply acquire merchandise; they are in fact managers of money. Every decision they make has an impact on the company's level of turnover, its profits, its cash flow and its return on investment.