ShopTorque
Thoughts, ideas, tips and musings as I work alongside small business owners helping them love their businesses back to life!
Shopping should be a pleasure for everyone involved - customers, staff and business owners - never a chore. I spend my time working with retail business owners - helping them love their businesses back to life! This blog is my thoughts, ideas, tips and musings on what I find...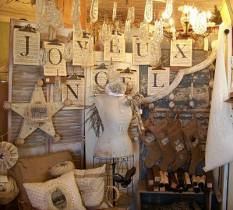 The Christmas retailing period can represent up to 40% of a retailers annual sales. Christmas 2016 generated $48.1billion in sales. And, yes, these are Australian figures.

In order to stand out in crowded shopping centres and shopping strips this festive season, retailers are going to have to think outside the (beautifully wrapped) box. So kiss goodbye to Rudolf and tinsel. Here is my first Visual Merchandising tip for the season. (By no means am I suggesting to put up your first full Christmas window, but I am suggesting you give thought as to what you're going to do and give consideration to my suggestion below...)
Dress for the "Christmas Customer"

Before you start, it's important to remember that your "Christmas Customer" is different from a regular shopper in shop.

While we might all be filled with a little more festive cheer at this time of year, our stress levels are up, we're busier than ever, and we're rushing around at 120 kilometres per hour. But perhaps the biggest difference to note is the customer journey. Your
"Christmas Customer" is a gift-giver, not an end user.

This means they need to be told something different by your window displays. Check out this Christmas Windows display board on Pinterest for ideas on how to be different and consider using mannequins in your window. Mannequins are silent, yet persuasive, sales staff.

Festive visual merchandising needs to interrupt the customer journey and display the perfect gift for a loved one (or not so loved one). By remembering this subtle shift in shopping behaviour, you can instantly create windows that drive foot traffic.