ShopTorque
Thoughts, ideas, tips and musings as I work alongside small business owners helping them love their businesses back to life!
9 Myths of Being Organised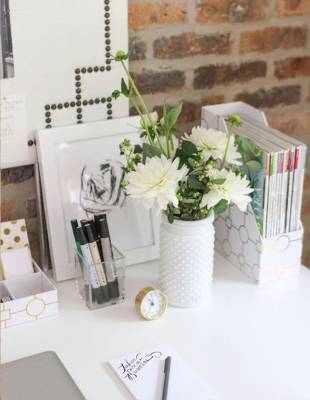 The truth is, getting organised is so challenging that many people never get organised. Why?
1. Its difficult to know where to start.
2. Its incredibly hard to find the time.
3. Its almost impossible to keep up the motivation.
There are lots of myths going around when it comes to getting and staying organised. Here are the top 7, along with the truths.
BEING ORGANISED MEANS BEING NEAT.
While you can certainly be neat AND be organised, the two terms should never be confused with each other. While you might have NEAT piles, or NEAT boxes piled one on top of the other, or objects lined up NEATLY in a straight line, you may still not be able to find a single thing when you need it. Being organised means you're using a structured system that allows you to find everything you need when you need it, and you get everything done when it's due--without frustration, chaos or stress.
Being organised is not about being neat. You can be messy and organised, and you can be neat and disorganised. If a person can find what they need, feel like they aren't distracted from achieving their goals, and is happy in their space, then they are well organised.
There are people whose homes and offices appear neat as a pin on the surface. Yet, inside their desks and kitchen cabinets, there is no real system, and things are terribly out of control. In contrast, there are many people who live or work in a physical mess, yet feel very comfortable in this environment and can always put their hands on whatever they need in a second. I consider these people organised people.
TO BE ORGANISED IS TO BE CLEAN.
Once again, while you can be BOTH organised AND clean, those terms should not be confused. Cleaning means that you're removing dirt, grime and otherwise preparing a sanitary surface. But, you can have the cleanest home or office on the block, and still be disorganised.
TO BE ORGANISED MEANS TO SCHEDULE EVERY MINUTE OF YOUR DAY.
While scheduling appointments, projects you need to complete, chores, etc. is highly recommended, you certainly do not have to schedule 'every moment' of your day to be organised. 'Scheduling is the fine art of packing every day JUST FULL ENOUGH of the most useful activities.' Never overload it. Your schedule should always allow you time for spontaneity.
ONLY CERTAIN TYPES OF PEOPLE CAN BE ORGANISED.
While there are a very small percentage of people who 'don't have the ability' to be organised, such as someone with a serious illness, most people CAN be organised. One of the most common misconceptions about organising is that its something only high-strung Type A people do. Yet an organised space has nothing to do with these personality traits, and this common misconception may prevent us from having a cleaner, easier life ourselves.
Being disorganised is not a disease, it is a decision. Getting organised is a valuable tool for anyone. Not only does it allow you to be more efficient and more productive, but it also saves you time and money.
GETTING ORGANISED IS FRUSTRATING
But it doesn't have to be. You've all seen the three step approach. Pull everything out that you're tackling. Next, sort everything into three piles – keep, throw away and give away. Then start putting things away that you're going to keep, thinking about what you need to be able to access, what you use most often and what will work best for you. Start with a small area so you don't become overwhelmed and put as much in the throw away or give away piles as you can. The less stuff you have, the less frustrating it will be.
For paperwork I use Shred-X Bins. They drop a locked bin/s off – you throw away all that paper you were keeping to read 'one day when' – lock the bin, give them a call and they come and collect and safely destroy all the contents. Job done!
BEING ORGANISED TAKES LOTS OF TIME AND EFFORT.
The truth is, it takes a lot less time and effort to be organised, than it does to be disorganised. Disorganization takes more time than you can imagine, and ensures that huge obstacles are always directly in the path of 'getting things done.' Getting and staying organised is not rocket-science. The systems and ideas, once learned, applied and practiced, can become as simple as brushing your teeth or combing your hair.
When you're overwhelmed, the best way to spend your time is to set up a system because the return on investment for doing that is so high. In just a few hours of decluttering your schedule, you can regain up to 10-15 hours a week in productivity. If you spend half a day organising your files, you can regain all the time you would have wasted looking for everything in the future.
ORGANISING HAS TO BE EXPENSIVE
I'll admit I sometimes drool over all of the organising accessories and doodads that are available these days, all to make organising easier and prettier.
But the truth is there are plenty of ways to organise that don't cost anything, and if you've got a creative streak, you can still make them just as pretty. Be creative and think outside of the box about things you can repurpose or recycle in your quest to be organised.
EVERYONE I KNOW IS ORGANISED, EXCEPT ME.
Beware of this myth. Being organised is both an outer and inner trait. Unless you really know a person well, you really can't come to this conclusion. For example, someone may have a very neat home, but she is never on time. Another person may have an organised home, but his office filing system is out of control. Yet another person may have an organised home and office, but never reaches any of her goals. You are not alone. There are many, many people in the world who need help getting organised in certain areas of their lives--even if it doesn't seem so on the surface.
ORGANISED PEOPLE HAVE NO FUN.
On the contrary, the people who are organised are getting the very best out of life. They are getting things done. They're achieving their goals. They're not wasting time searching for lost items, or re-doing things, or missing appointments. They're finding the time they need to do things they love, and spend time with the people they love.
Time to get organised?