ShopTorque
Thoughts, ideas, tips and musings as I work alongside small business owners helping them love their businesses back to life!
Christmas Windows: Mid and Fore Grounds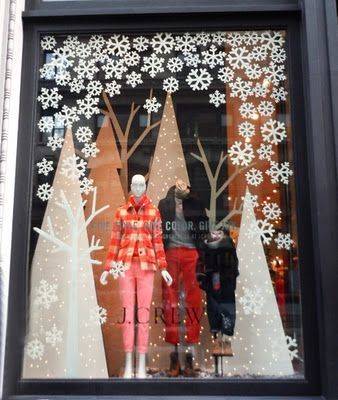 In previous blog posts I talked about the importance of stamping your mark on Christmas and your window backgrounds. Let's now complete your display by looking at your Mid and Fore Grounds.
Mid Ground
This is the main body of the window display and generally provides the main opportunity to promote your products/message.
The mid ground consists of your window kit (basis to build your displays on) and the products you want to dress/promote.
A key component in the mid ground is to ensure you group the basic kit correctly first. It is vital that the whole window has a theme so that the display has maximum impact. This theme could be colour, lifestyle, brand, material/pattern, story.
Fore Ground
The foreground of the window display is generally the glass. The glass can be used to help create depth and perspective to your display by adding decals (stickers) on the glass. The decals should support and enhance your theme. Alternatively you can create a foreground element by positioning products or props close to the glass.
Finishing Touches
To complete your window display you need to do the following:
1. Angle your spotlights onto the display to ensure it is well lit.
2. Price the display with a neat, professional ticketing system.
3. Clear away all excess kit, equipment etc.
4. Ensure the floor and the display area is clean and crisp.
5. Stand back and assess your efforts and tweak to make perfect.
6. Watch how customers react – if they are attracted by the display and stop to look then you know you have it right!!
And, remember to check your display every day to ensure nothing has fallen and it is still in good order. Hopefully you will quickly sell out the items in the window. As stock gets low, change the product. It is also good to practise to change products every two weeks to give your shop a fresh look. Just the product, not the scheme. The scheme should last the season