Retail Musings
"How can money be the root of all evil, when shopping is the cure for all sadness..." Elizabeth Taylor
Blog posts tagged in eye appeal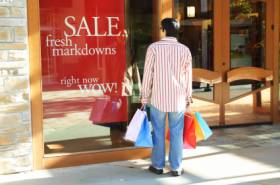 Unlike the familiar saying, "Don't judge a book by its cover" people do judge a shop by its "cover".
The first impression a person is going to get of your shop is from its windows, the front door and the outdoor signage. Many a decision on whether or not to enter is going to be based on this first impression. Furthermore, if the potential customer does get by the cover and enters the shop, they must feel comfortable inside, or chances are they will walk right out.
So it is important that both the inside and outside of your shop are kept as attractive as possible. Both should reflect a personality and image that appeals to your target audience.
Think of your shop as you would of an impulse item.
You want the passerby to be stopped in his or her tracks by your windows and signage, and drawn right through the front door. Then, once the customer opens the door, you want them to be further drawn to your merchandise.
Start with your footpath or car park. You want it to be head and shoulders above all the other footpaths on the same street. If someone surveys the entire block from across the street, you want your entire package – footpath or carpark, shop and signage – to stand out from all the others. And don't forget to sweep!