ShopTorque
Thoughts, ideas, tips and musings as I work alongside small business owners helping them love their businesses back to life!
Creating a Family Tree
A Family Tree is a useful system used to capture

important information for your business.
A Family Tree is a more detailed extension of the product classifications used in the range assortment plan.
The most useful aspect of this facility is to capture accurate information which will provide valuable historical data as well as a basis for planning your business.
Example of a Family Tree: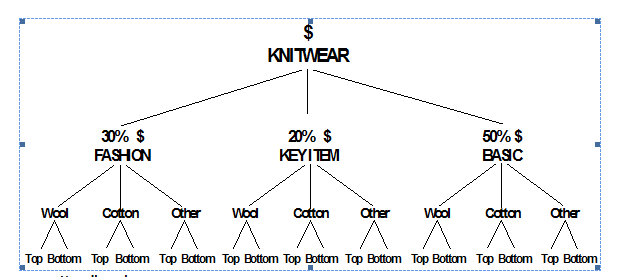 How it works
Each item purchased would be given a code that registers with the appropriate description. Therefore at the end of a period in the above example you would be able to determine how many Knitwear Key items in wool you have sold.
QUANTITY ALLOCATIONS
A lot of consideration has already gone into the selection of appropriate product for your business. Setting the correct unit quantities to each item is now the key to the success of that item. There are many methods and formulae that you can use to establish a quantity to be purchased however, before you start calculating this, you must consider the following:
size of the store (floor and reserve space)

store turnover

unit capacity of fixtures

weeks stock on hand (SOH) that you want to have available

type of product - fashion, basic, etc

life expectancy of the item

historical information

is it advertised or for a promotion

pre packed quantity restrictions
After reviewing the above points, you can now have a better idea on how to approach setting your quantities. Example (refer Figure 2.)
After setting the total quantity per item, it may be necessary to break it down further, e.g. size and colour.
Figure 2: Example of Unit Break Up
SIZE

COLOUR

SIZE

TOTAL

UNIT COST

UNIT RETAIL

KR240

L/S Jacket

Black (50%)

S (25%)

M (50%)

L (25%)

250

500

250

1000

$15.00

$35.00

White (20%)

S

M

L

100

200

100

400

$15.00

$35.00

Natural (15%)

S

M

L

75

150

75

300

$15.00

$35.00

Navy (15%)

S

M

L

75

150

75

300

$15.00

$35.00

KR 240

L/S Jacket

TOTAL

S

M

L

500

100

500

2000

TOTAL COST

$30,000

TOTAL RETAIL

$70,000
Much better than guessing or using the "Oooh Aaaah I like it" method of buying. Give it a try and see how you go!