ShopTorque
Thoughts, ideas, tips and musings as I work alongside small business owners helping them love their businesses back to life!
Featured
WHAM! Unexpected Delight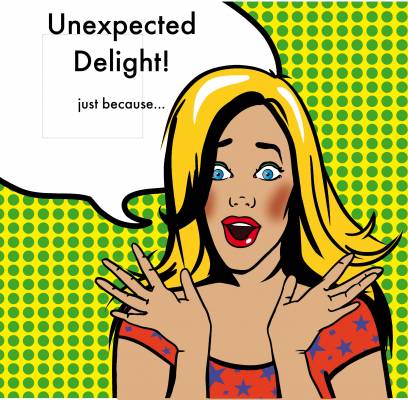 It seems as though we are constantly faced with the issue of trying to find new customers. Most of us are obsessed with making sure our advertising, displays, and pricing all "scream out" to attract new business. This focus on pursuing new customers is certainly necessary but, at the same time, it can wind up hurting us. I believe our focus really should be on the 20 percent of our clients who currently are our best customers.
Focusing on the best current customers should be seen as an on-going opportunity. To better understand the rationale behind this theory and to face the challenge of building customer loyalty, let's look at five customer types.
Loyal Customers: They represent no more than 20 percent of our customer base, but make up more than 50 percent of our sales.
Discount Customers: They shop our stores frequently, but make their decisions based on the size of our markdowns.
Impulse Customers: They don't have buying a particular item at the top of their "To Do" list, but come into the store on a whim. They will purchase what seems good at the time.

Need-Based Customers: They have a specific intention to buy a particular type of item.

Wandering Customers: They have no specific need or desire in mind when they come into the store. Rather, they want a sense of experience and/or community.
If we are serious about growing our business, we need to focus our effort on the loyal customers, and merchandise our store to leverage the impulse shoppers. The other three types of customers do represent a segment of our business but they can also cause us to misdirect our resources if we put too much emphasis on them.
So let's have a look at our Loyal Customers:
We need to be communicating with these customers on a regular basis by telephone, mail, email, social media etc. These people are the ones who can and should influence our buying and merchandising decisions. Nothing will make a Loyal Customer feel better than soliciting their input and showing them how much you value it. In my mind, you can never do enough for them. Many times, the more you do for them, the more they will recommend you to others.

I get a bit miffed when I see businesses where I'm a loyal customer always hunting for new customers with special deals. I feel like saying "What about me? Have you added up the $$$ I bring your business each year? Where's my special deal?" I don't say it. But I surely think it!
Let me share one of the BEST experiences I've had. I visited my favourite local cafe recently. They know me - to the extent they simply point to a coffee cup and raise an eyebrow when I walk in. A grin and a yes please is all it takes to get the the triple-shot flat white coffee happening.
On this particular day I was there with 3 business colleagues. We were having a working lunch – talking about some major plans we were putting into action. The lunch, as always, was delicious. I went up to pay and was met with "No Deb. This one is on us." I argued (feeling guilty). "But there's four of us. Please let me pay. This isn't right."
"No, we appreciate you and this is our way of saying thank you. So please..."
Amidst my profuse thank you's and you shouldn't haves I walked back to the table to be asked "What's going on?'
When I explained what had just happened – all three were as equally gobsmacked and grateful as I was. They now frequent my cafe – not because they want 'freebies' but because they were blown away by the unnecessary generosity shown toward us.
I call it Unexpected Delight. Not sought, not looked for, not expected. Out of the blue. WHAM!
We left delighted and very grateful. The cafe now has 3 more loyal customers (and yes, every so often they, too, are subject to an unexpected WHAM!). And the cafe? Doing it well with a super-loyal clientele.
When was the last time you gave your loyal customers a WHAM moment? A moment of Unexpected Delight...