ShopTorque
Thoughts, ideas, tips and musings as I work alongside small business owners helping them love their businesses back to life!
10 Things Retailers Should NEVER Say...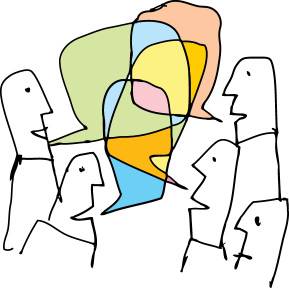 We all know that a positive tone and language are highly important when it comes to good customer service, but many retailers still use phrases that may give the wrong image and negatively impact our customers' shopping experience.
The following phrases used in a customer service setting can kill a sale and possibly lose a customer.
Here are some sayings retailers should avoid:
1. I Don't Know
Customers don't expect retailers to know everything, but when it comes to answering a product question or other enquiry, they do expect the salesperson to be confident enough in their knowledge of the business to provide an answer.
Better: "That's a good question. Let me find out for you."
2. All Sales Are Final
Your shop's policy may not allow returns on clearance merchandise or other items. It's fine to let the customer know this, but retailers need to be flexible and allow a return or exchange against company policy if it comes down keeping a customer.
Better: "Let us know if you're not satisfied and we'll make it right".
3. Calm Down
There may not be a more infuriating phrase in customer service than this one. If a customer has reached a boiling point and is ranting away, the best thing to say is nothing. Let the customer finish. Once they have gotten everything out, they will begin to feel better and may be more receptive to a solution.
Better: "I apologise".
4. Did You See Any?
If a customer asks for a particular item you carry, chances are they already looked for it and didn't see it. This could mean it's out of stock or possibly still in the stock room Even if they haven't looked for it yet, the best customer service would be to either take them to the product or go get it for them.
Better: "Yes, we stock that. I'll go see if we have any."
5. We're Closed
At the end of the day, the last thing a closing-shift employee wants to do is allow a shopper in after hours. Before turning away a potential sale, keep in mind that either the customer doesn't know the store hours or possible the customers don't know what time it is. Neither is a reason to be abrupt.
Better: "We close at _____o'clock and reopen at ____ o'clock. Is there something I can quickly help you with now?"
6. Will That Be All?
Not many customers would find anything negative about this phrase. However, not only is it overused but the retailer is passing up a sales opportunity.
Better: "Did you see our _______ that goes with this?" or "Have you tried____?"
7. It's Over There
We've all heard this bad customer service phrase used b the busy or indifferent salesperson. Sometimes they may point in the general direction. Other times they don't even lift their head to acknowledge the shopper. Make sure all store staff knows using this phrase is a big no-no.
Better: "Follow me, I'll show you right where it is."
8. I Can't Do That
This is another negative customer service phrase that should be banned from all store staff. Either empower the employees or train them to take issues to a supervisor or store manager.
Better: "What I can do is________."
9. That's Not My Department
It may be true, but it is also definitely something a customer doesn't want to hear. Retailers should train their staff to be familiar with all areas of the store operations or at least understand who to contact for help in various departments.
Better: " I'll be happy to get you to the person who knows more about that department."
10. We're Out of That
It's inevitable that a store will run out of a product and customer know this. Unless you let the customer know if and when it will be restocked, they will probably go buy it elsewhere. Be proactive and offer to contact the customer when it's back on the shelf. Don't ask them to call you.
Better: "That item is currently out of stock but will be back in on _____. Can I get your name/number and call you when it comes in?"