ShopTorque
Thoughts, ideas, tips and musings as I work alongside small business owners helping them love their businesses back to life!
No Refund Signs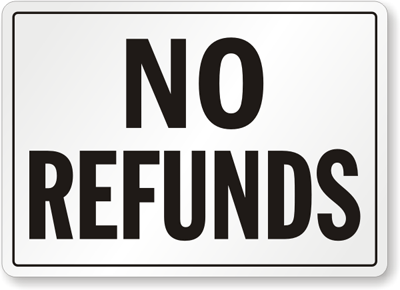 Retailers don't have to use signs which enunciate their policy regarding refunds/returns, but if they are to be used, then they must clearly state what customers are entitled to. The signs don't have to be long and complicated – shorter signs can be used as long as they don't mislead the customer. However, disclaimers printed in small type can be considered as misleading, as customers may not see them.
Signs which enunciate the refund/return policy of a retailer should be positioned as close as physically possible to the entrance(s) to the store. This way, the customer is unable to enter the store and make his or her purchases without having been deemed to be in possession of knowledge of the retailers refund policy.
There is no point in placing refund policy signs at the cash register – the customer has already made their selection (if not already completed the purchase) and therefore cannot be said to have made the purchase in full knowledge of the retailers' refund policy.
Signs that impose time limits for returning goods are illegal because they mislead customers about their rights.
Commonly displayed signs that breach the Trade Practices Act are:
'No refunds'
'No refunds after 7 days'
'No refund or exchange'
'We will exchange or repair or give credit notes but we do not refund'
A sign which says: 'Please choose carefully as we do not give a refund or credit note' is also illegal as that sign would falsely represent the rights of a customer. Any sign displaying a refund policy should also state that proof of purchase is required.
Examples of Acceptable Signs
1. If goods are sold by sample (e.g. curtains, blinds, tiles or bricks), then the following sign could be used:
'No refund unless goods are faulty or do not match the sample you were shown'
2. If it is mechanical, electrical or electronic goods being sold (e.g. personal computers, stereo systems etc.), many customers would rely on the advice of a specialist salesperson. The sign could say:
'No refund unless the product is faulty or does not do what we said it would'
3. Whitegoods are an example of goods sold on the basis of what they can do, i.e. an automatically defrosting refrigerator. In this case, you could use a sign saying:
'No refund unless goods are faulty or do not match description'
4. Retailers may want to tell their customers they cannot expect a refund if they change their mind. In this case, the following wording could be used:
'Please choose carefully. We do not normally give refunds just because you change your mind'
Source: Australian Competition & Consumer Commission publication "Warranties & Refunds"
The following refund policy sign has been endorsed by both the Ministry of Consumer Affairs & Business (Vic) and the Australian Competition & Consumer Commission.
'Our Refund Policy:
Please choose carefully.
We do not normally give refunds if you simply change your mind or make a wrong decision.
You can choose between a refund, exchange or credit note where goods are faulty, wrongly described, different from a sample shown to you or don't do what they are supposed to do.
Please retain your receipt for proof of purchase'
You can, of course, decide to refund everyone for whatever reason. That is purely a business decision. What you can't do is refund less than the legislation requires. Your policy is null and void when compared to the law.