ShopTorque
Thoughts, ideas, tips and musings as I work alongside small business owners helping them love their businesses back to life!
Colour My World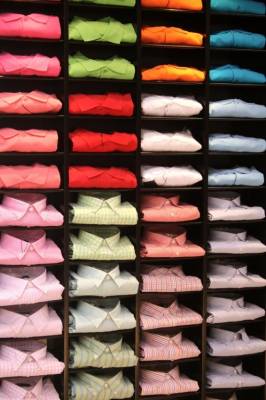 Colour is what customers see first.
More than anything else, colour makes people stop and look. bright shirtsFor many customers the colour is more important than the size, the style or the price.
It's important to remember that most people, when they pass windows, are not thinking of shopping; their minds are elsewhere and it's quite a challenge to catch their eye and their imagination. Colour invariably does the job beautifully.
COLOUR AS A MERCHANDISING STRATEGY
Retailers promote different colour schemes each season. They introduce new shades of a currently popular colour or select an entirely different palette (selection of colours). Standard colours may be combined in unusual ways. These colour schemes should be featured in highly visible areas of the shop, like shop entrances, department entrances, along aisles, in windows, or on interior displays, so that customers can find them easily. If the colours are part of a national trend, or have been aggressively promoted through advertising, customers will be looking for them.
Once customers have entered a shop the next visual merchandising challenge is to draw them through the entire store to the back walls. Experience tells us that, on average, customers pass through only the first third of the shop and then exit unless something happens to entice them further in.
If merchandise displays with colourful impact are used throughout the shop, it is more likely that the customer will be drawn from one area to the next. The more merchandise customers are able to see and touch, the more likely they are to make purchases. Colour is one strategy to help you accomplish this critical merchandising goal.
THE HOW-TO OF COLOUR CO-ORDINATION
The following step-by-step directions give you practical guidelines for merchandising by colour in today's retail operations:
Divide the colours of product into groups, according to their colour intensity (intensity is the degree of saturation of a colour). There are seven common colour groups: Combine the colours within each group to create colour schemes. Colours of the same intensity blend together harmoniously.
Brights: The clearest, most vivid primary colour intensities
Pastels: Colours with added white to lighten and soften their effect
Midtones: Not bright and not pastel, just in between values
Jeweltones: Royal colours
Muted/Dusty: Midtone with added grey
Earthtones: The colours of the earth - sand, rust, brown
Neutrals: Colours that blend with every colour group
Do not combine colours from the various groups together, except for neutrals. Neutral colours can be combined with colours from any of the various colour groups.
Arrange colours in a sequence that follows the natural order of the rainbow - RED, ORANGE, YELLOW, GREEN, BLUE, VIOLET.
Some presentation guides advise arranging colours form light to dark. However, perception and interpretation of colour values is an individual thing so a light-to-dark guideline offers no guarantee of shopwide colour continuity. One of the biggest drawbacks to a light to dark colour sequence allows bright schemes, jewel tones, midtones and pastels to be mixed on a rack - at the expense of strong colour impact.
If the shop you work in recommends the light to dark colouration format, you will need to use it; but if you have a choice, I believe that rainbow colourisation is easier and will provide more impact in your presentations.